Accommodation in North Nias (Nias Utara)
North Nias has the most beautiful beaches on Nias, but accommodation options are limited. Tourism is still very much in the pioneering stage. Visiting North Nias is how traveling used to be when backpackers first explored Southeast Asia. It can be challenging, but if you can overcome this you will get to experience a unique part of Indonesia that very few outsiders have ever seen. There are three towns and villages where you can base yourself;
Afulu; this is a small village on the west coast very near a famous surf location. There is a great place on Walo Beach (next to the wave) catering for surfers and travellers. This is where most foreign visitors coming to North Nias stay.
There are also two very basic guest houses in the village for budget travellers or for when the Retreat is full.
Lahewa; the largest town in North Nias, located in the northwest corner of the Island. There is one guest house here.
Gunung Sitoli; this is the largest town of Nias Island. Many tourists begin and end their stay on Nias Island here. It is also possible to stay in Gunung Sitoli and explore North Nias on day trips. Gunung Sitoli has several good hotels and many choices of restaurants.
---
 Afulu – surfing, beaches & Islands
Afulu is a village on the west-coast of North Nias. The village is next to a large protected bay, which is one of the few sheltered harbours on the west coast of Nias. Long distance sailors often spend a few nights in the bay in front of Afulu. It was sailors and surf charter-boats that discovered the famous surf wave nearby. The wave is located off the southern end of Walo Beach, but surfers simply call it 'Afulu' after the nearby village. As the roads to the west-coast improved adventurous surfers started to make their way to Afulu overland. Initially visiting surfers stayed in local people's homes but today there are a few different choices of accommodation.
 Afulu Retreat
One of the best beach holiday destinations on Nias! The Retreat consists of four cosy beach bungalows on the southern end of Walo Beach, nestled in amongst the coconut trees, with a great view of the Afulu wave. The main part of the Retreat is run by Makmur and has three stand-alone bungalows with king beds, ceiling fans and mosquito nets. Off the back of each bungalow there are beautifully designed outdoor showers and two western style toilets at the back of the compound.
On the other side is a more basic two room bungalow run by the older brother Darus. Shared showers and bathroom in the back. Staying at either of the bungalows includes three healthy meals a day, cooked in the family's home and brought to your bungalow. Brothers Makmur and Darus have been involved in the surf scene in Afulu since the mid 90's and have a reputation for being very helpful. Makmur speaks good English, knows the local surf spots and can help arrange motorbike rentals, transport and boats to Wunga Island.
Price depends on bungalow type and season. Contact Afulu Retreat directly to enquire about price.
Mob: +62 823 0416 2558      Mob: +62 813 7095 1444      
 Penginapan Citra – Guest house
Basic guest house located in a two storey building in the middle of Afulu villga. The second floor has a row of four rooms with a large terrace in front. There are two additional rooms on the ground floor. The rooms are very basic and bathrooms facilities are shared on the ground floor. Standard Indonesian fare can be prepared on order and eaten downstairs with the family. Short term rental of motorbike and minivan can be arranged from here. From Afulu village it is two kilometers to the most popular surf wave.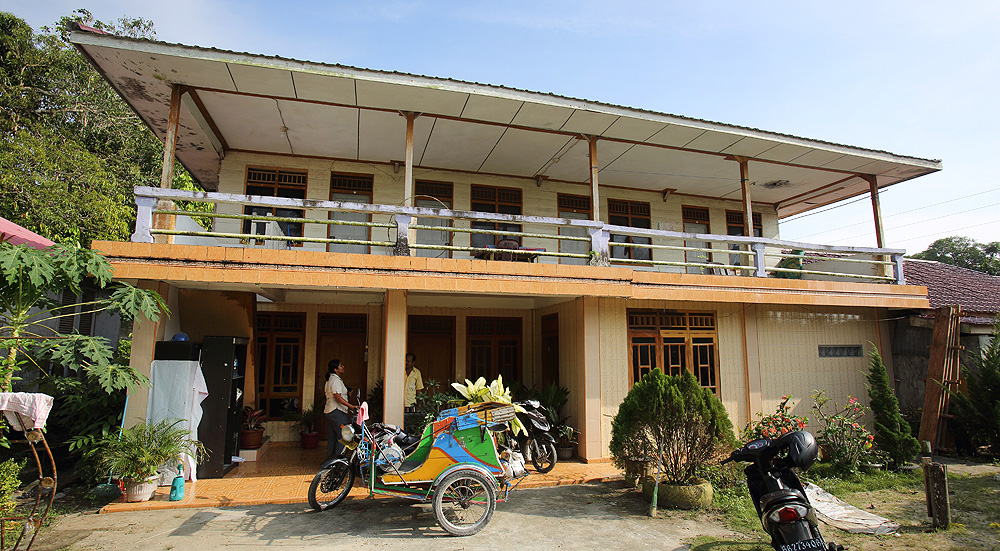 Contact: Ina Citra. Mob: 0813 7658 0556 or 0823 6064 3500. Ms Citra can often be found in her shop next to the guest house.
 Pondok Harianto – Bungalow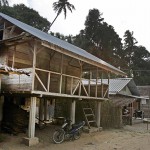 Very basic wooden bungalow located in the middle of a Walo village, 1 km north of Afulu. There are two rooms. Mosquito nets and mattresses are provided and there is a nice balcony overlooking the street. Shared toilet and bath is available across the road in the owner's house. Standard Indonesian fare is served on request. This village is 1 km away from the most popular surf wave. Short term rental of motorbike, ojek and minivan can be arranged from here. This is an ideal place for people who want to experience Indonesian village life.
Contact: Mr Harianto (Dado) Mob: 0852 7913 1808
---
 Lahewa – the center of North Nias
Lahewa is the largest community in North Nias Regency, and also the third largest town on Nias Island. This doesn't mean that it's a big town, rather a large village with a busy market street lined with many shops. Travellers to the west-coast of North Nias always travel through Lahewa. This is one of the few places in North Nias where it is possible to find restaurants and guesthouses. Currently there is one Penginapan (guesthouse) in Lahewa.
 Penginapan Siang Malam – Guesthouse
Siang Malam (day & night) is a restaurant and guesthouse in the center of Lahewa. The restaurant is probably the best in North Nias. Government officials and foreign development workers use this place when visiting Lahewa. Facilities are still fairly basic, but there is electricity and water. Rooms include fans and are clean and well maintained. There are two types of rooms; five rooms upstairs with shared bathrooms (bathrooms downstairs). There is a nice balcony in front of the rooms where there are chairs and tables. The three down stairs rooms have good spring beds and ensuite bathrooms. The restaurant is on the ground floor of the building.

Contact: Mr Marwan Efendi Zebua. Mob 0852 6185 5880. Look for the owner in the restaurant.