Accommodation in West Nias (Nias Barat)
The main reason tourists come to West Nias (Nias Barat) today is the Hinako Islands, particular Asu Island. Until recently the only accommodation in West Nias was on Asu Island, but in 2014 a guesthouse opened on the mainland as well. There may soon be more accommodation options available in this beautiful part of Nias.
---
Asu Island – Hinakos
Hinakos is a group of islands off the west-coast of West Nias Regency. There are some very good surf waves here, the most famous one just off the northern tip of Asu Island. For this reason all the places to stay in the Hinakos are concentrated on Asu Island where there are three choices for accommodation. They are all great places, run by locals and foreigners who are passionate about the place and go out of their way to take care of their guests. Each place has its own individual style but what they all have in common is friendly staff and the relaxed island vibe that makes Asu one of the highlights of Nias.
 Mama Silvi's Cottages
Five beach bungalows and a family villa right in front of the best beach on Asu. All the bungalows have bathrooms with scoop bath (mandi), fans and mosquito net. Mama Silvi is a friendly local lady who speaks excellent English and is also a great cook. You can eat on your veranda or with other guests in the beach huts in front of the bungalows. Electricity comes on at 5.30 PM
From Mama Silvis place it is roughly one kilometres walk to the main wave alternatively you can arrange for a boat to take you there. Boat transfers and excursions around Hinakos can be arranged here.
Mama Silvis Cottages are open all year around and is popular with both surfers and beach loving travellers. During swell season (may – oct) and around Christmas you should book ahead to make sure to get a room. Rp 300,000 per bungalow.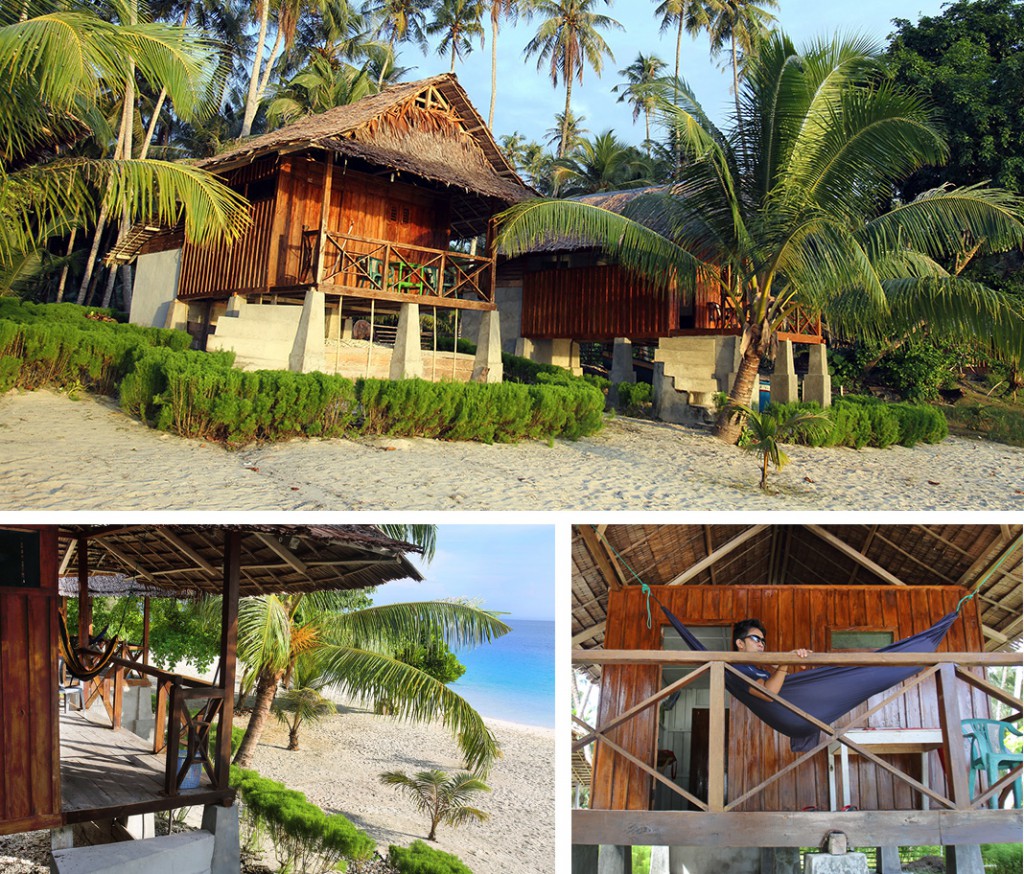 Puri Asu Resort
Puri Asu is a comfortable private resort with its own beach. Two large Sumatran bungalows on stilts can facilitate up to 15 guests. Rooms are equipped with all the facilities you would expect in any modern hotel. Food, services and facilities in this resort is among the best found anywhere on Nias. Apart from enjoying the great location guests can take part of a variety of activities such as surfing, snorkelling, scuba diving, fishing, SUP, yoga and free boat transfers to the nearby wave. Surfing is the main reason people come here, but Puri Asu is now increasingly attracting scuba divers and fishing enthusiasts.
Puri Asu Resort is fully operational during the swell season (may-oct).  All trips are on a set schedule and are 10 nights / 11 days in duration. Book well in advance via the website, walk-inns during the high season are not accepted. During the low season the resort is officially closed but the local caretakers can sometimes let you stay if other accommodation on the island is full. Contact Puri Asu Resort directly for package prices.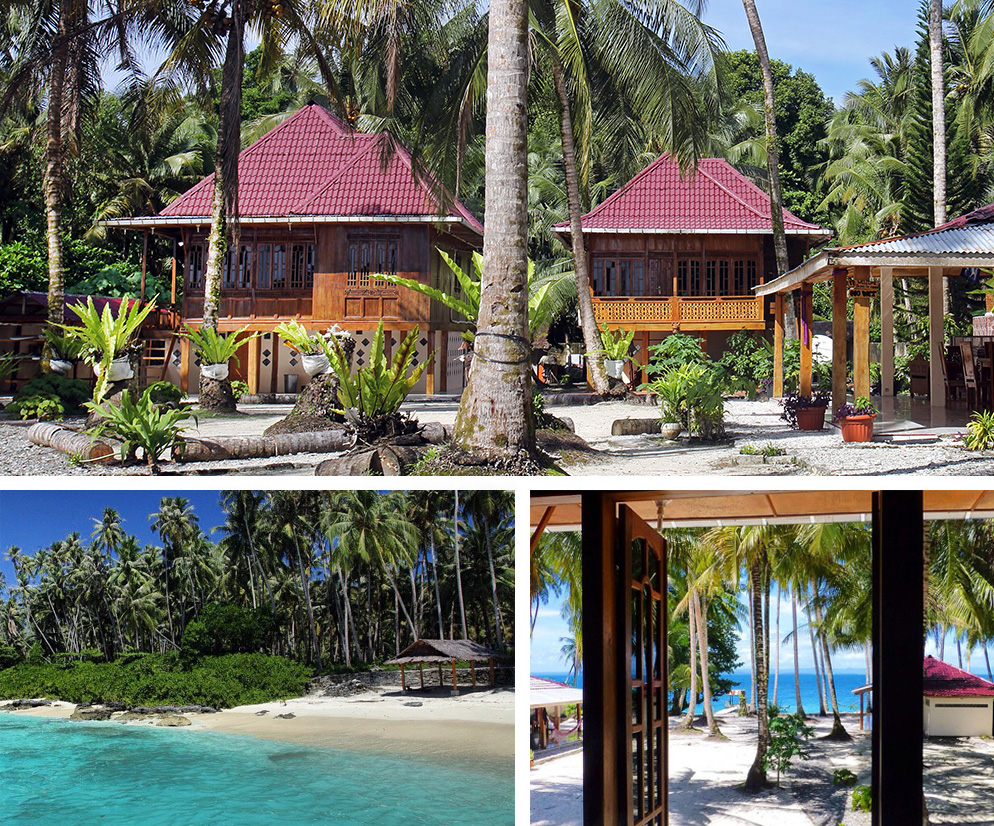 E: info@puriasuresort.com      WEBSITE            
 Asu Surf Camp
Asu Surf Camp is situated right in front of the wave. It consists of a large two room bungalow that sleeps up to 7 people maximum capacity. One queen size double and five single beds are available. This place is about world-class surfing, the simple life, chilling in the hammock, good food and great company. The bungalow is simple but comfortable and equipped with fan and mosquito nets. Amenities include full board, free laundry service, hot water showers, and high speed satellite internet with wi-fi. Electricity 6pm-6am.  In between surfing guests can use the fitness bungalow or go snorkelling at the nearby reefs. Asu Surf Camp gets consistently good reviews on travel advisory websites. Asu Surf Camp is operational during the swell season (may-oct).
All trips are on a set schedule and are 10 nights / 11 days in duration. Walk-ins during the high season are not accepted. Book well in advance via the website. During the low season the resort is closed. Contact Asu Surf Camp directly for package prices.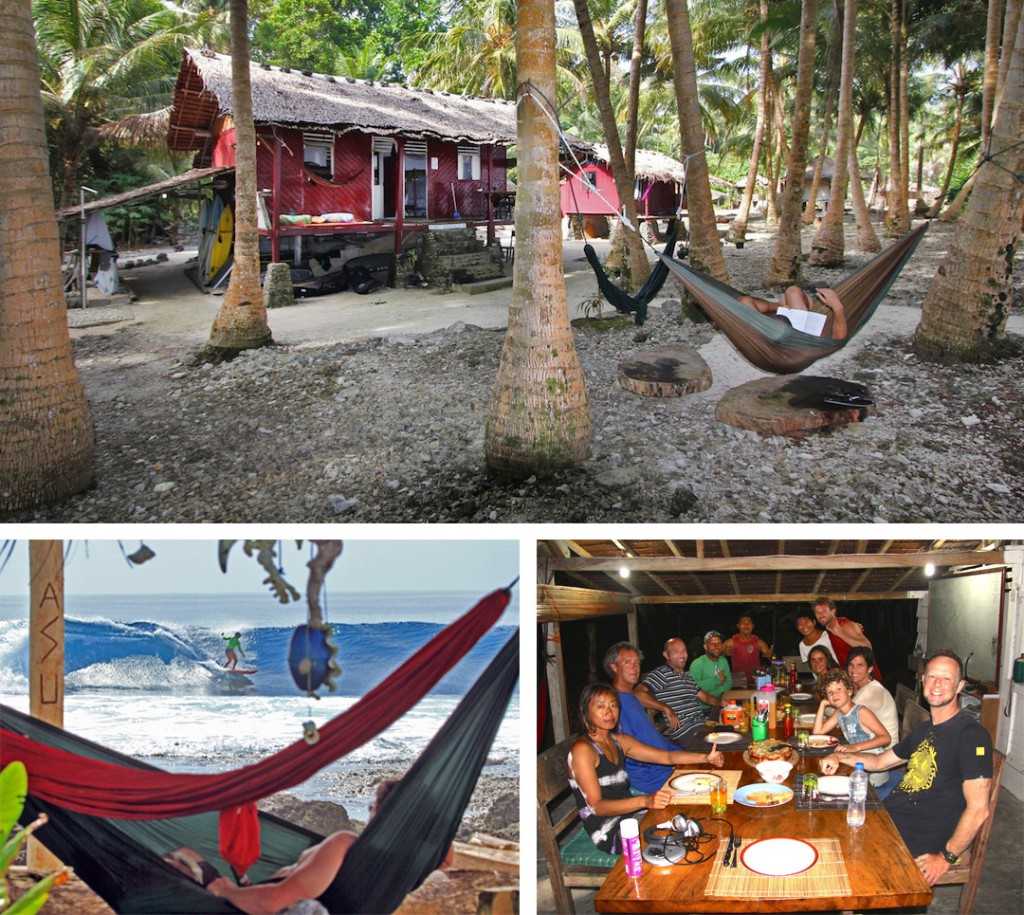 E: asucamp@gmail.com      WEBSITE            
Sozinhos Surf Lodge
Sozinhos Surf Lodge opened its doors in 2017 and is located in front of the Point, the famous wave on Asu. The lodge consists of a large two-storey bungalow with 3 rooms with a maximum capacity of 8 people. All rooms have en suite toilet and showers. Upstairs rooms have lots of windows and fans and access to a large balcony. The lodge is surrounded on 3 sides by jungle and palm trees and the ocean in front. In front of the lodge is a large gazebo which is perfect for surf photography, sunset viewing, yoga or just relaxing after the day's activities. The lodge has its own speedboat which is used to reach waves on nearby islands. In between surfing guests can go snorkelling, fishing or just enjoy the island vibes of this friendly place.
Most guests book 10 day packages which include fullboard and speedboat transfers from Sirombu to Asu. Fuel costs for extra surf and fishing trips are not included. Walk-ins are welcome if rooms are available. Sozinhos is open all year around.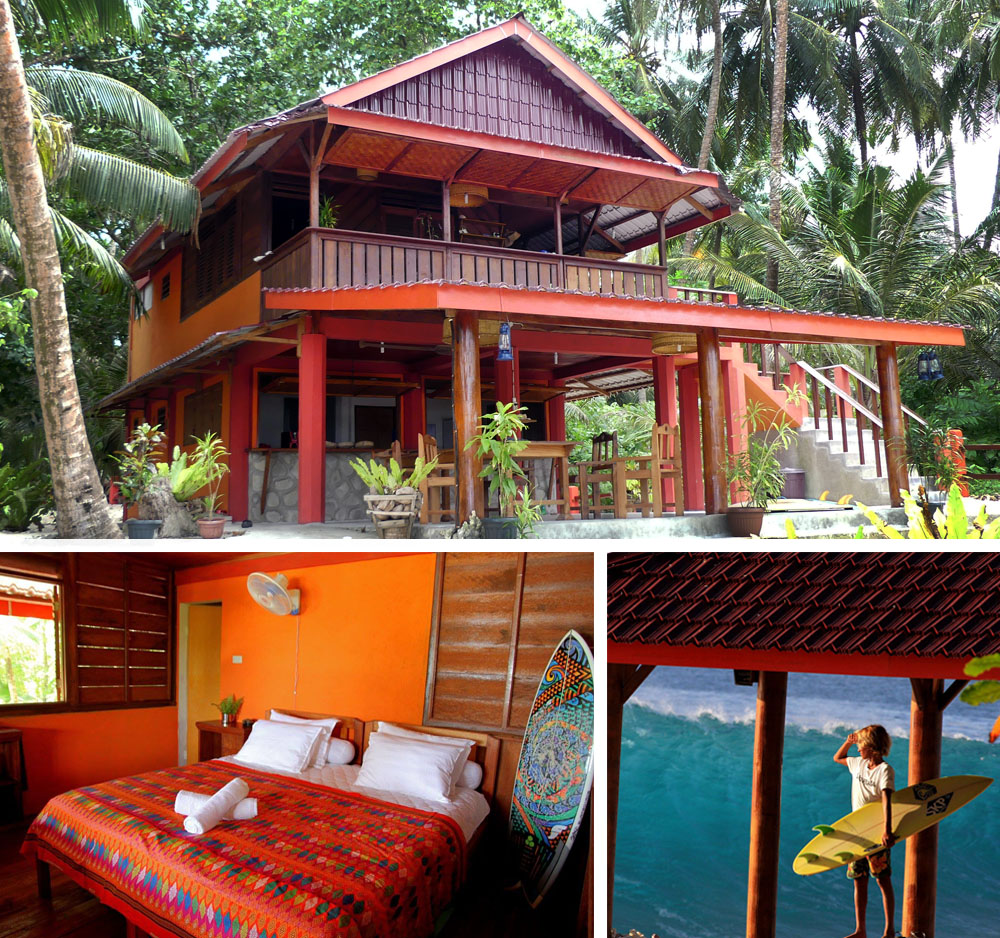 Mob: +62 812 6496 2045     E: darryn@sozinhossurflodge.com     WEBSITE            
---
West Nias Mainland
 Hotel Tokosa
Onolimbu village, Lahömi sub-district
This hotel was opened in 2014 to service civil servants and contractors visiting West Nias Regency. It is strategically located next to the head offices of the local government. Tokosa sees very few tourists but is actually a good base for exploring West Nias. There are 23 rooms; 11 standard rooms are equipped with fan (Rp 200,000), 10 rooms are equipped with AC and TV (Rp 250,000) and two rooms have AC, TV and hot water (Rp 300,000). All rooms have attached bathrooms.  Breakfast is included in the price and other meals can be had at nearby simple eateries. It is possible to pre-order meals at the Hotel.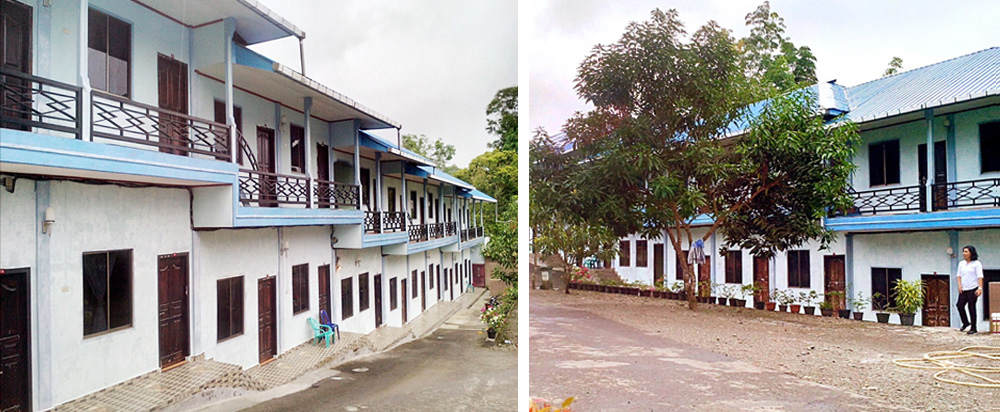 Mob: +62 812 6266 663      Mob: +62 812 6266 664