Ya'ahowu – Welcome to Nias Island! 
Nias Island (Pulau Nias) is one of the true gems of the Indonesian archipelago still waiting to be fully explored. Being off the beaten track means that only a few surfers and adventurous travellers make their way here. But recent improvements in infrastructure mean that Nias is now accessible to anyone. Highlights of Nias include world-class surfing, a unique culture and a coast line dotted with beautiful beaches and small paradise islands. Nestled amongst the green hills of the interior are waterfalls, caves and traditional villages.
Nias is one of the best kept secrets of Asia only now reaching for its full potential. This website is dedicated to sharing the wonders of Nias Island with the world!
Where is Nias Island?
Nias Island is located in the northwest corner of Indonesia. Nias is the largest in a string of islands west of Sumatra called the Barrier Islands. They mark the western limit of the Indonesian archipelago. Situated just north of the equator, Nias Island is 120 kilometres from the mainland, between Simeulue Island in the north and Mentawai Islands in the south. Nias Island is part of the province of North Sumatra. The closest international airports are Medan in Sumatra (1 hour flight) and Singapore (1 hour flight from Medan).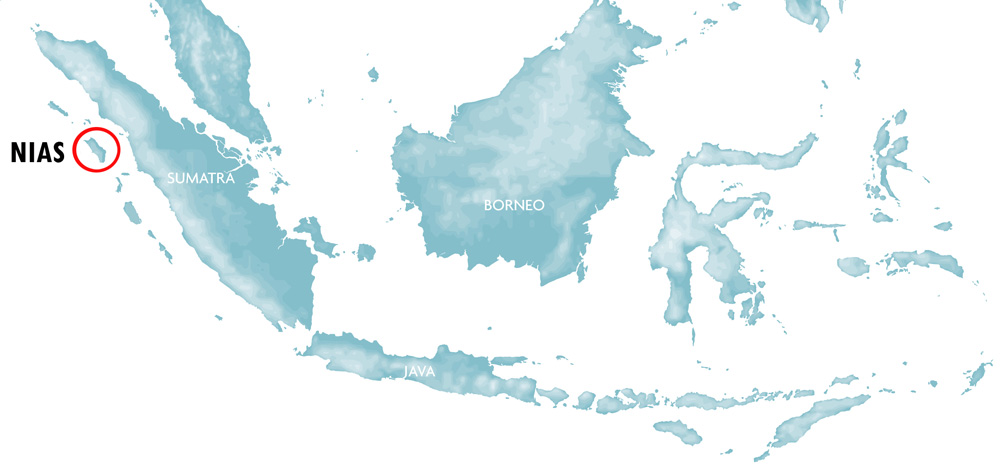 Geography
Nias Island is approximately 120 kilometers long and 45 kilometers wide at it's widest. The whole of Nias covers an area of 5.121 km². As a comparison with other islands in Southeast Asia, Nias is a little bit smaller than Bali, and a bit larger than Lombok. It is roughly ten times the size of Phuket in Thailand.
More than half of the coastline consists of long, sandy beaches. There are 28 small islands off the coast of the main Nias Island. The interior of Nias Island is covered in hills, with the highest peak reaching 885 meters. Nias is a very green island, and seen from the air it looks like it is covered in jungle. But most of the forest is actually cultivated. The interior is dominated by cocoa and rubber trees, while coconut palm trees dominate along the coast. A few flat areas in the valleys and along the coast are used for rice plantations.
80 kilometers south of Nias lays another group of islands called the Batu Islands (also known as the Telos). Even though these islands are located quite far from Nias, they are linked by culture and language and administratively fall under South Nias Regency.
For more information have a look at the MAP of Nias Island.  This is a downloadable map that can be printed out or saved onto your phone.
Weather
Being close to the equator the climate on Nias is tropical and the temperature does not vary much over the year, usually staying around an average day temperature of 32° Celsius, and 22° at night. As in many other tropical destinations Nias is humid and has a dry and wet season. Traditionally the rainy season lasts from July to December, but in recent years the usual weather patterns have been more fluid, and it can now rain or be sunny on any given day of the year. During the rainy season is not uncommon to have heavy rains during the night and blue skies during the day. The driest part of the year is between January to March.
People
Nias people are distinctly different from other Indonesian people in the region. Their origin and how they came to Nias is not exactly known. An early theory was that Nias people were related to tribal people in Nagaland in northeast India and Burma due to the similarities in cultural practices, such as head hunting, megalithic culture and giant pig-feasts. The latest research by DNA testing points to links with people in Taiwan. Indigenous Nias people look very similar to the so-called 'hill tribes' of the Golden Triangle and the link with Taiwan may be that both groups originated from southern China.
The majority of Niasans use the indigenous language 'Li Nono Niha' on a daily basis. While young people today also speak Indonesian, it is not uncommon to meet older people in the interior who do not understand Indonesian. In larger towns and villages along the coast other ethnic groups such as Acehnese, Chinese and Bataks can be found in small numbers.
During the 2010 national census the population of Nias Island was around 760.000. Protestant Christianity is the main religion, but there are also Catholics and other Christian denominations. The Muslim population (6 %) tend to live in fishing villages or in the larger villages and towns. The different communities coexist in harmony throughout Nias Island.
The people of Nias are exceedingly friendly and hospitable. Visitors are generally greeted with curiosity and a big smile.
Livelihood
Agriculture is the most important economic activity on Nias, mainly the harvesting of rubber and coconuts. There is also rice farming and cocoa harvesting, but to a lesser extent. There are few commercial plantations on the Island, and most farmers operate on subsistence level, growing a variety of crops. Along the coast many people make their living from fishing.  There are no large industries on Nias and the vast majority of the population work as farmers, fishermen or civil servants.  Tourism is largely an untapped resource, which currently only employs a fraction of the population in a few locations around the island.
Administration
Indonesia is divided into 34 provinces. Nias Island is part of North Sumatra Province. Each province is further divided into Regencies (Kabupaten). The word Regency originates from colonial times, and is essentially the same as a district or a county, which is the administrative level below Province. For a long time Nias Island was administered as one Regency, and most decisions concerning the Island were made in Jakarta. In 2003 the administration of Nias was split into North Nias and South Nias Regency. Five years later during a nation-wide drive for greater regional autonomy, Nias was split into four Regencies and one municipality; South Nias, West Nias, Nias, North Nias and Gunungsitoli City. The head of a Regency is called a Regent, or 'Bupati' in Indonesian. The Bupati is the most senior government official in the district and is a very important person locally. For many people in remote areas the office of the Bupati is much more important than the central government.
Each regency is divided into sub-districts, called kecamatan in Indonesian. Each district is divided into villages, called desa in Indonesia.  A desa is an administrative unit, and there can be several small villages under one desa. Each village has an elected chief called kepala desa.