Accommodation on Telos Islands
Telos is one of the most beautiful and unspoiled places in Indonesia.  Due to its remoteness tourism here is distinctly different from the rest of Nias. Much less people come here, and the ones that do usually stay on surf charter boats or at private surf resorts. The standard of accommodation at the surf resorts is significantly higher than elsewhere on Nias. In fact some of the resorts here are recognized as the most exclusive and luxurious surf resorts in Asia. But in the last couple of years several cheaper local alternatives have opened up ranging from small hotels to very basic homestays.
Most of the available accommodations are located in the north-west part of the Telo Islands archipelago, on and around Telo Island. In the far south there is also a resort and a few of local guesthouses around Duru Bay. For information about how to get to Telo Islands check out our Local Transport page.
---
Local Hotels and Guesthouses
For surfers on a budget or independent travellers there are some local options around. Most popular is beautiful Sibaranun Island, which is conveniently close to the airport and Telo Island where the ferry from Teluk Dalam arrive.
Sibaranun Island
Most independent travellers to Telos end up staying most of their time on Sibaranun. If you are looking for an authentic island experience, this is it! Apart from the amazing natural beauty of the place you also get to see how local people live on remote islands in Indonesia. There are two guesthouses on the island, both of them operated by friendly and helpful English speaking locals. Island life is simple, with shared outside bathrooms and electricity only available for a few hours in the evening. Food is tasty and healthy but choices are limited. Don't go to Sibaranun without a confirmed booking, especially during surf season (May to September) as the guesthouses may be full. If there are no rooms available on Sibaranun you can always find accommodation in 'town' on nearby Telo Island. When a room on Sibaranun becomes available the owners can come and pick you up.
Telo Surf House (Sibaranun Inn)
Telo Surf House is located on the northern end of Sibaranun Island, right next to the beach. It is usually referred to as 'Taha's place' after the owner. In total there are 5 rooms divided between two houses. The main house is fairly basic and has 3 rooms and a dining room and a covered veranda. Budget surfers often stay here. A couple of hundred meters away is a more up-market double storey villa with two rooms, a kitchen and a large veranda in front. This bungalow is often used by families or small groups who stay for a few weeks. Visitors can enjoy Mama Jonas home cooking or use the guest kitchen. Prices for the budget bungalow are Rp 100, 000 per person or Rp 300,000 for fullboard. Contact the owner for prices for the Villa. The owner Taha speaks English and can arrange boat trips to nearby islands, surf spots and to the airport.

Mob: +62 823 6445 9995      Mob: +62 853 0630 0297      E: sibaranunsurfhouse@gmail.com           
Telo Island Surfhouse (Andreas Homestay)
Two bedroom accommodation staying with local family in Sibaranun village. It is often referred to as 'Andreas place' after the owner. The house has room for 4 guests, is basic but clean, brick with tiled floor, with Indonesian style toilet & bathroom. Price Rp 300,000 PPPN package which includes accommodation, bottled water tea & coffee, plus three Indonesian home cooked meals per day. Guest have the choice of surfing the left out front of the village or the right 20 minutes walk away. Andreas surf guide and host can also take guest to nearby surf spots in his boat. Construction is underway of a stilted bungalow overlooking the wave. This bungalow will have 4 rooms. From the front balcony guests can watch some of the most spectacular sunsets in Telos. The new bungalow will open early 2018.

E: info@teloislandsurfhouse.com    WEB           
---
Tello Island
Tello is the largest (and only) town in Telos Islands. This is the administrative and economical center of the archipelago. Apart from a bustling port and bazaar area there are beautiful beaches and natural scenery on the opposite side of the island. In the last few years several guesthouses and small hotels have opened up in town, serving visiting business people and government workers. Increasingly local tourists are finding their way to Telos and they often base themselves in town rather than on one of the islands. At the moment there are six guesthouses and small hotels in the center of Tello town, in the area known as 'the Bazaar' (Pasar). All of them are located along Jalan Raja Sitipu which is the main road through town along the seafront. They are listed here as they appear from north to south.
 Wisma Family 
Cosy and clean family run guesthouse located c. 300 meter south of the ferry port. Look for Café Setia on the right side of the road.  The guesthouse belongs to the same family that runs the café and is located right behind it. There are 6 double-rooms; all with AC and ensuite bathrooms. 2 rooms have showers, the rest have Indonesian style baths. There is a nice courtyard in the back and a little garden area where guest can hang out. The café out front is also a nice place to spend some time. Indonesian style breakfast is included in the price. The owners are very helpful and can arrange motorbikes and boats for rent as well as tickets. Price from Rp 250,000 to 350,000.

Mob: + 62 812 6027 5311
 Ponos Hotel
New two storey hotel on the opposite side of the Chinese temple, some 500 meters south of the ferry port. There are 5 rooms, all with AC and ensuite bathrooms. Deluxe rooms are equipped with TV and have hot water showers. There is a nice balcony on the second floor overlooking the harbour.  Downstairs is the only working ATM in the Telo Islands. Standard rooms are Rp 150,000 and deluxe Rp 300,000.
Mob: +62 813 9797 1766
 Losmen Patricia
Budget guesthouse located on the right side of the road some 650 meters south of the ferry port. There are 11 rooms; 9 standard with fan and shared bathrooms and 2 deluxe with AC and shared bathrooms. There is a nice garden in front of the guesthouse where guests can relax and eat meals prepared in the guesthouse. Standards rooms are Rp 50,000 and deluxe Rp 200,000.
Mob: +62 821 6615 0136                                                   E: fredycia@yahoo.com
 Kemah Celin
Two storey budget guesthouse next door to Losmen Patricia. There are 12 rooms, 10 with fans and 2 with AC. All rooms are located on the second floor and toilets and showers are shared. There's a nice balcony at front of building facing seawards. Food can be provided if ordered in advance. This guesthouse is mainly catering for local people.
Mob: +62 812 6317 6088                                                   E: yanti.ina54@yahoo.com
Wisma Hilinitaya
This old budget hotel is located opposite Kemah Celin guesthouse along Jalan Sitipu. It is fairly run-down and mainly used by locals. There are 15 very basic rooms ranging from Rp 30,000 to Rp 50,000.
Mob: +62 852 9789 5297                                                                         Mob: +62 853 5945 2267
 First Inn    
Small hotel frequented mainly by domestic tourists and visiting government officials. There are 11 rooms; 8 standard rooms with shared baths, 2 deluxe double rooms with ensuite bathrooms and a suite. First Inn is located just under 1 km south of the ferry port. The staff can arrange excursions to nearby islands, fishing trips and airport transfers. Prices range from Rp100,000 to Rp 400,000. Add Rp 100,000 for fullboard.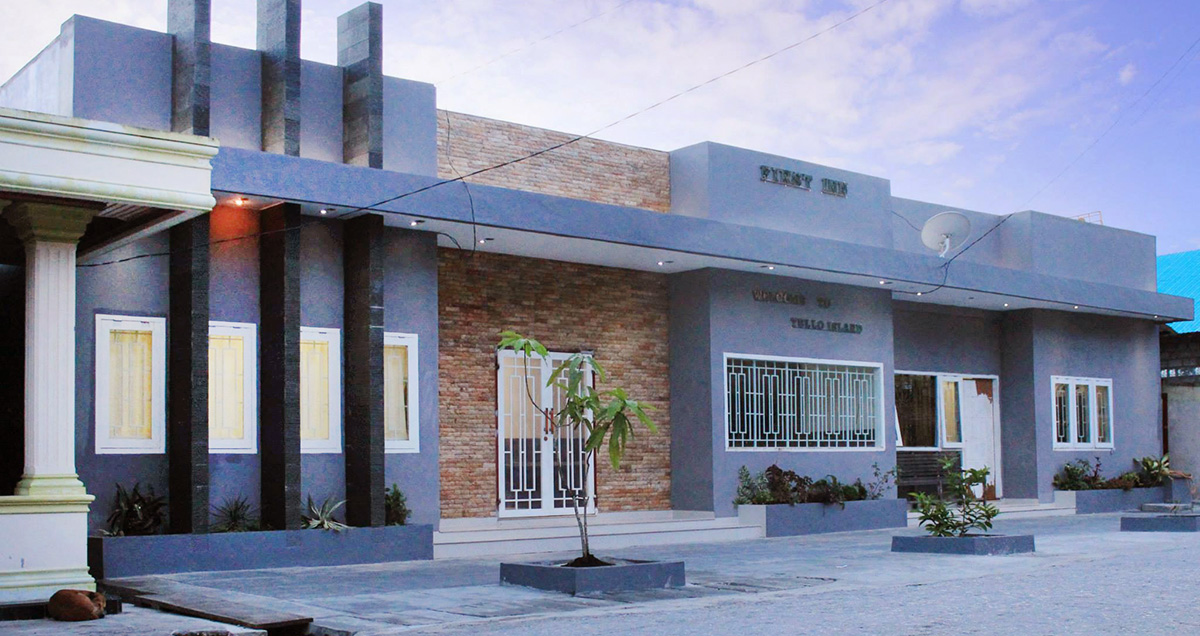 Mob: +62 852 6228 1661      E: willy_design99@yahoo.com      
The Far South – Duru Bay and Sigolo Golo
In the far south of Telos there is small cluster of accommodation providers on Tanahbala (Hibala) Island. Some of them are serving the growing trading post Sigolo Golo, which is the largest village in the southern Telos, others cater for the surfers heading to nearby Duru Bay.
 Surfing Village
This resort was the first surf camp in the south of Telos. It is located in Duru Bay a few kilometers from the port. More info under Surf Resorts on this page.
 Ranika Homestay
Inspired by nearby Surfing Village this is a locally owned and operated surf camp. It is located near the village Duru II on the west side of Duru Bay. The main building has two storeys with 7 rooms. Prices are Rp 250,000 per day fullboard or Rp 100,000 stay only. From the harbour in Sigolo Golo hire a motorbike 'becak' to bring you to Ranika Homestay which is located 4-5 km southwest of the port. You can also arrange pick-up with Ama Ranika, the owner.

Mob: +62 813 6369 6848     E: fanaohondo@gmail.com
 Ranika Losmen
This guesthouse is located on the eastern side of Duru Bay, opposite from Ranika Homestay and is also owned by Ama Ranika. There are 4 rooms costing Rp 150,000 per night. Confusingly the two guesthouses owned by Ama Ranika are sometimes marketed online as Telo Surf Losmen or Telo Surf Camp by Indonesian surf travel agents.
Mob: +62 813 6369 6848                                                             E: fanaohondo@gmail.com
 Damai Susi
Near the port in Sigolo Golo (also known as Eho village) is a simple local losmen with 4 rooms.
---
Surf Resorts
Staying at one of the surf resorts will not come cheap.  What you are getting for your money is one of the world's most exclusive surf travel experiences. No efforts are saved to give guest the best surfing experience of their life. The resorts are managed by professionals with decades of experience operating surf resorts. Most of the resorts do not reveal their exact location to preserve some of the 'secret spot' mystique that is part of surf culture.
At the moment there are six surf resorts on Tellos. The resorts are very popular and have a limited number of rooms. During the swell season (May to September) they often book out months ahead. If you plan to stay at any of these places contact them directly via their websites well in advance. Packages are all inclusive and usually around 10 to 12 days including full board, transfer and boat to surf. Prices range from US$ 2600 to US$ 6000 per package. Check the individual resorts websites for accurate prices.
 Telo Island Lodge
Internationally renowned as one of the most exclusive surf resorts in Asia. Telo Island Lodge is located right next to the water in a beautifully landscaped coconut grove. The Lodge gets lots of return clients and is considered to be one of Indonesia's premier fly-in/fly-out surf resort. There are two world-class waves on the doorstep of the resort and 18 more breaks within an hour's boat ride, with the majority less than 20 minutes away. Telo Island Lodge caters exclusively for a maximum of 8 guests at a time. The standard of rooms and resort facilities are world class and without a doubt one of the best in the region. Apart from surfing with professional guides there are many other activities available here such as fishing and snorkelling
Prices are for 10 day packages on set dates. Price includes full board, charter plane from Medan, boat trips to surf breaks and use of recreational and sports equipment.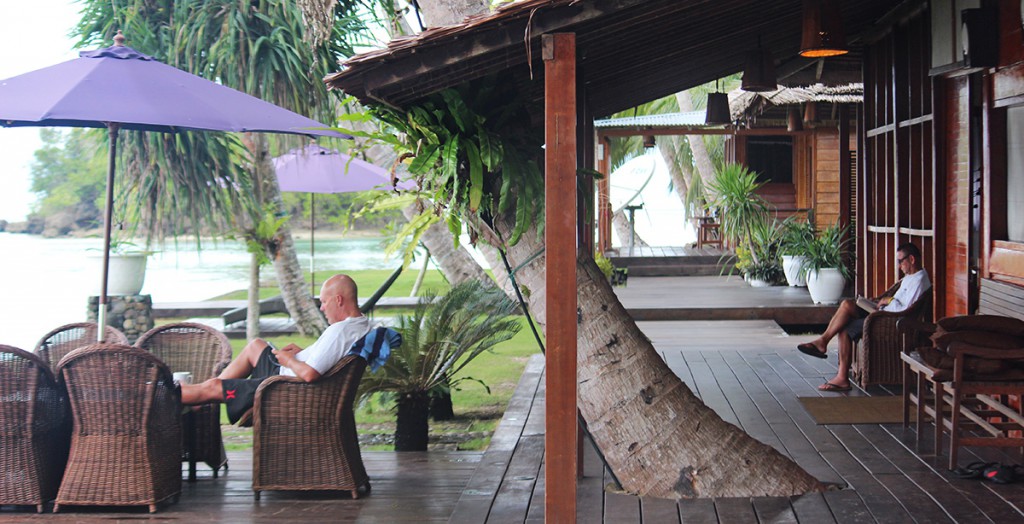 E: bookings@pegasuslodges.com      WEB            
 Pinnacles On Telo
Pinnacles opened in 2017 and is situated on a 50-acre uninhabited island containing one of the Telos' finest surf breaks, this resort promises to become just as popular as the other exclusive resorts in the Pegasus Group. Pinnacles features eight private air-conditioned bungalows, each with a king-sized bed and ocean views from every place in the room. The standard of rooms and resort facilities are world class and without a doubt one of the best in the region. This resort is great for surfers wanting to bring their non-surfing families as there are many activities on offer here, such as sea kayaking, snorkelling, fishing, excursions, village eco-tours, cooking classes and stand-up paddle boarding.
Prices are for 10 day packages on set dates. Price includes full board, charter plane from Medan, boat trips to surf breaks and use of recreational and sports equipment.

E: bookings@pegasuslodges.com      WEB            

 Resort Latitude Zero
Latitude Zero is a boutique surf resort sitting (almost) exactly on the equator. The resort is set in a natural coconut garden right next to a beautiful beach. The location for the resort was chosen for its natural beauty and proximity to many great surf waves. The main building consists of a modest complex of two beautiful timber Queenslander-style buildings. A separate open kitchen and dining gazebo sits between the two houses, overlooking a swimming pool.  There are 16 spacious bedrooms with AC. 4 of the rooms have ensuite bathrooms.  Extra amenities include a gym, spa, chill out area, sports equipment, wifi and TV. This is one of the most luxurious resorts in the region and it generates a lot of good reviews.
There are a number of different packages from 7,10, 14 days. Price includes full board, charter flight from Padang, boat trips to surf breaks and use of the resorts recreational and sports equipment.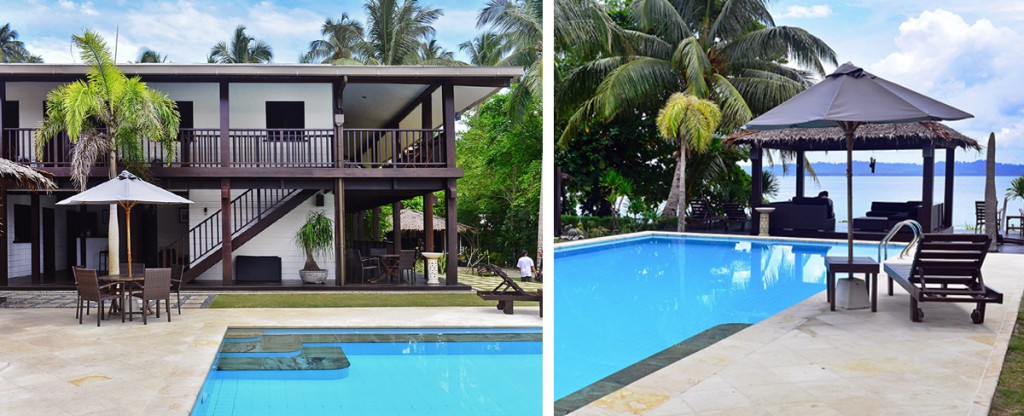 E: info@resortlatitudezero.com      WEB            
 Telos 101
Telos 101 is one of the more affordable Surf resorts consisting of three large bungalows on stilts overlooking a beautiful beach on Sipika Island. There are some great waves near the resort and many more nearby. Each bungalow has three beds and en suite bathrooms. Each room is equipped with fans & mosquito nets. Amenities include a restaurant, bar and satellite TV.  Currently construction is underway of 4 x 5 star villas that should be ready by the 2019 season.
Prices are for 10 day packages on set dates and vary depending on what type of transfer you choose (speedboat from Nias or charter plane from Padang). Prices are full board and include boat trips to surf breaks and use of the resorts recreational and sports equipment

Tel: +61 423 022 344      E: info@telos101.com      WEB              
 Surfing Village
Situated in the far south of the Telos with a number of 'secret' uncrowded waves within reach. Built by and for surfers this place has the feel of an ecolodge or a yoga retreat. When not out chasing waves the vibe here is very much about relaxing and being in tune with your surroundings. The Village has a capacity of 12 guests and consists of four double storey 3 bedroom bungalows equipped with western bathrooms. The main building is an impressive 3 storey structure built of local natural materials. Between surfing guest hang out here and enjoy the restaurant, bar, satellite TV, yoga or billiard. The Surfing Village is known for its great food.
Prices are for 12 day packages on set dates. Price includes full board, speed boat transfer from Padang, boat trips to surf breaks and use of the resorts recreational and sports equipment.

Mob: +62 812 6799 6700      E: mario@surfing-village.com      WEB